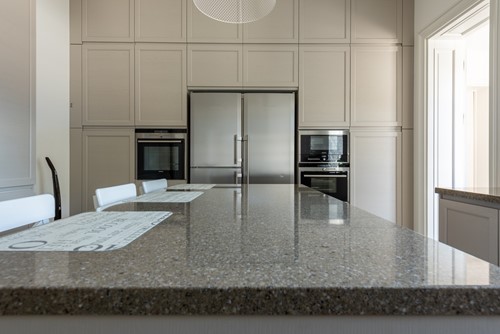 Your kitchen counter is one of the most heavily used surfaces in the home. Everything from food preparation to working from home can happen in the kitchen, and the countertop material plays a major role in those activities and the overall look and feel of the kitchen. Granite has been a popular choice for decades. However, there are some factors to consider before making the switch to granite countertops.
Here's what you should know about granite countertops:
Durability
Granite countertops are popular for many reasons, but foremost for durability. Granite is one of the toughest materials on earth, even more durable than stone. It's resistant to scratching, chipping and breaking and extreme heat. You can place a hot frying pan directly onto a granite countertop without damaging it at all.
While it's slightly porous, it will only absorb stains if they're left for too long. To clean granite, all you need to do is wipe it down with a sponge and your choice of surface cleaner. Upkeep is as simple as applying a fresh coat of sealant every few years to keep it pristine and strong.
Versatility
Granite is far more than gray speckled stone. There are countless granite options depending on the aesthetic you want. Because it's a naturally formed substance, each piece of granite is unique. While there are common color choices such as brown, pink, gray and blue, each individual slab will have its own detail and variation.
There are also many choices of finish available for granite. While a glossy high-polish look is extremely popular, you can also find granite countertops in a more matte finish. No matter what you want your counters to look like, granite offers a plethora of options.
Cost
No matter what material you choose, countertops are often one of the most expensive parts of a kitchen remodel. Unfortunately, granite fits that pattern with its relatively high cost. Natural granite costs more than factory-made granite, but depending on the type you choose, it can still be affordable. The pricing has come down over the years because of greater supply. More rare colors may still cost a fortune, but it's possible to get natural granite without busting your budget.
One money-saving option is using granite for only a portion of the kitchen counter, such as an island. You can choose a smaller space for granite as a stylish accent and as a dedicated space for activities that require its durability.
While expensive, granite offers an excellent return on investment with its durability. Its popularity and visual appeal also can increase overall home value. Consider these important factors if you're thinking about making the switch to granite countertops.